Why buy commercial satellite imagery?
The mass market first explored the world of free satellite imagery when Google Earth was launched back in 2001. We spent hours looking at our houses, favourite holiday destinations and exploring the other side of the world, all from the comfort of our homes. Amazing, right?
Nearly two decades later and the world of satellite imagery has become even more advanced with more active Earth Observation satellites than ever, paving the way for further commercialisation within the industry. Businesses across the world are discovering the value and power of up-to-date satellite imagery, and using it as a reliable data source for decision-making has become standard practice.
But why are these businesses paying for satellite imagery when free applications are available?
Image freshness
Images offered by free applications – from companies such as Google or Bing – have no time-stamp and are often out of date, which can make it very difficult for businesses to rely on this information when making major decisions. The diagram below indicates the frequency of imagery updates across free platforms.
Generally speaking, population density dictates update frequency, meaning images over larger cities are likely to be updated every 6 months, but imagery across remote areas can take years to update, and there's no way of telling when the next update will be.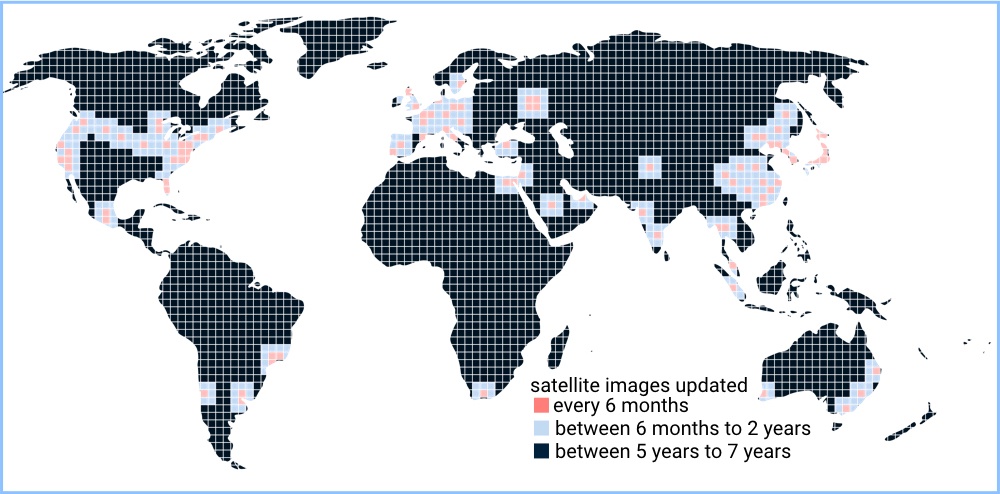 Collectively, the major satellite operators have the capacity to map the entire world more than once a day, so we know fresher imagery exists than what's visible within free platforms. Using commercial satellite imagery gives you the reassurance that you're consuming the latest imagery available for your area of interest. In addition, commercial imagery offers an accurate time-stamp to when the image has been acquired making it undisputed evidence of an exact location's appearance at a specific date and time.
Business-focused features
Free applications are designed primarily for casual browsing by consumers, so features are focused towards these consumer requirements. Conversely, commercial imagery offered by Bird.i is designed with business users in mind and therefore offers features specifically designed to add value and aid decision making.
For example, users can easily download an image to view offline (rather than only accessing online via a web browser) which can be very useful when viewing imagery over time, comparing two locations side-by-side, and for saving images for progress reports and internal records.
Other features offered by Bird.i include the ability to; save locations, view historic images, receive notifications when new images have been acquired over your locations of interest and consume this imagery in a way which works for your business – either through our online portal or via our API.
Additional support and services
From satellite imagery specialists to corporate account managers, Bird.i's team of experts can guide you through your journey into bringing powerful satellite imagery data into your business. Whether it's helping with a specific project, analysing insights, or training new users internally, Bird.i can be your perfect imagery insights partner.
To see how simple and affordable it is to incorporate the latest satellite imagery into your business, get in touch to arrange a customised demo!
Need to solve a more complex challenge? Incorporating machine learning into your satellite imagery package could be the answer. Read more about how artificial intelligence could add another level of depth to your insights here.
Uncategorized