Managing custom locations of interest in Bird.i's Image Service Portal
In the development team at Bird.i, we have learnt quickly that new features should be built to be used. Whilst the temptation is always there to guess what features might be useful to our Image Service customers, there's little point in building things that we think are cool – but which nobody wanted in the first place!
This is why we operate a feedback-driven approach to our development cycle, where we regularly ask our customers what they would most like to see in our Portal, and then work in short sprints on delivering the most requested features. This allows us to get new functionality out there fast, whilst also knowing in advance that it's going to directly improve the experience of using Bird.i's Image Service.
One of our most requested features was the ability to draw and save a custom location of interest on the map. We are pleased to announce that as of January 2020, this feature is now available to all Portal customers.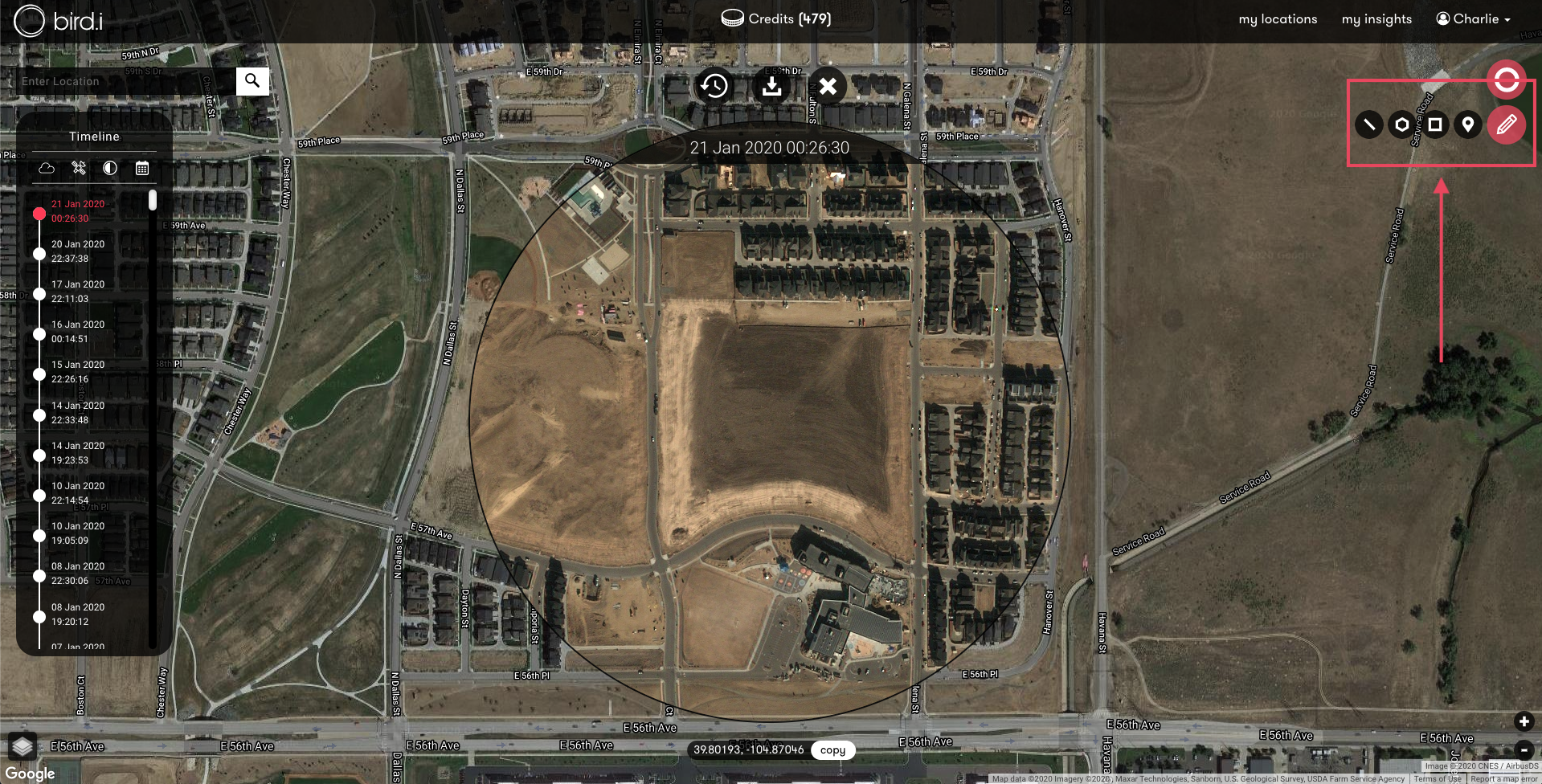 Saving a custom location in the Image Service Portal allows you to easily return to places of interest, as well as receive notifications when new images are captured over these areas. In our first iteration of enabling customers to create a list of favourite locations, we provided a single button that would save the currently visible centre of the map. Whilst this provided a quick and easy way to capture a point that you wanted to return to, it was not specific enough to accurately represent your area of interest for notifications. Were you interested in a single point or a larger area? What if you were intended to save a house in the top-left corner of the screen? What if you wanted to monitor a long pipeline?
Our new tool now supports a range of location types by allowing you to draw a point, line or area on the map. After these locations are saved, when new images are captured anywhere across the area that you've drawn, we can notify you through an opt-in email alert.
See a short video on how to use the new tool below:
As developers, this new feature provided us with a number of interesting challenges. We needed to ensure our full backend architecture for saving a location and receiving a notification could handle different geometry types – points, lines and polygons. On our front-end, we used a combination of React and Leaflet to build and connect drawing tools to our map. Ultimately, the most rewarding aspect for our team was seeing how quickly we could build and deliver this feature – solving these challenges across the space of a few weeks.
For customers, this now means that you have more control over defining the locations that matter to you – and on being the first to know when new satellite imagery is available over those areas.
Login to our Image Service Portal to start saving your own custom locations today!
custom locations, image alerts