5 Iconic Infrastructure Projects from Above
We've been scouting some of the world's most impressive infrastructure projects from space! We found so many projects spanning bridges, canals, airports, railways and roads but here are our 5 favourites….
Sydney Harbour Bridge
The Sydney Harbour Bridge is undoubtedly one of the most iconic tourist locations, and it's not difficult to see why – even from above it looks spectacular! Construction started in 1923 with 14,000 workers, and 1.5 billion dollars, 6 million steel rivets, 272,000 litres of paint, and 6 years later, the bridge finally opened to the public allowing trains, cars, bikes and pedestrians to make their way between Sydney's CBD and the city's North Shore.
Copyright Bird.i – DigitalGlobe Inc 2018
Panama Canal Project
One of the world's largest engineering projects, The Panama Canal expansion, aimed to double its capacity by adding two new sets of locks, widening and deepening existing channels, and raising the maximum water level of the Gatun Lake. The expansion allowed the canal to cope with larger vessels and a much higher volume of traffic over its 48 miles, proving the perfect passageway for international trade.
Copyright Bird.i – DigitalGlobe Inc 2018
Charles de Gaulle Airport
Home to the infamous Eiffel Tower, Arc de Triomphe and Notre Dame, Paris is a truly iconic city for architecture. Its Charles de Gaulle Airport also happens to be the second largest in Europe, and even looks good from above! This image from 2nd September 2018 shows some recent construction on the East side of Terminal 1. Construction for an express rail link, The CDG Express, is also planned for completion in 2023.
Copyright Bird.i – DigitalGlobe Inc 2018
Beijing South Railway Station
Occupying a huge 79-acre site, Beijing South Railway Station is one of the largest in Asia. Its iconic ray-shape roof covers the terminal, which was built from 60,000 tons of steel and 490,000 cubic metres of concrete. Its glass ceiling houses thousands of solar panels to generate electricity – a key feature of the 109 year old station's upgrade. It's fair to say the size of this station really comes across in this image taken from space!
Copyright Bird.i – CNES/Airbus DS 2018
Spaghetti Junction Atlanta
Situated in the North East of Atlanta, 'Spaghetti Junction' was named after Tom Moreland, a former Commissioner of the Georgia Department of Transportation. The interchange has 5 levels, 14 bridges and handles around 300,000 vehicles every day. Though it may not look straight-forward, it was designed to simplify an older interchange built in 1958 to relieve congestion in the area.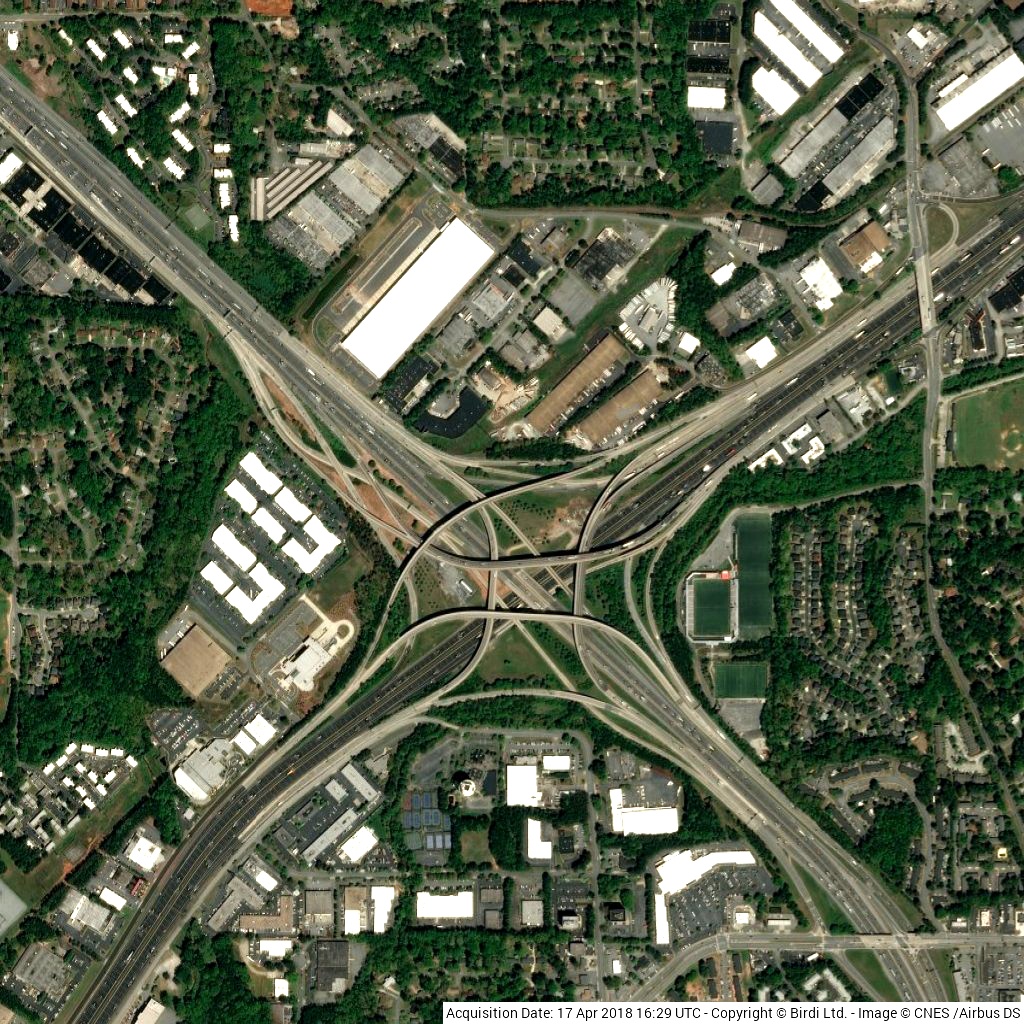 Copyright Bird.i – CNES/Airbus DS 2018
–
Do you work in infrastructure or engineering? Bird.i can help you plan, monitor and analyse projects for reports with the latest up-to-date satellite imagery, available through our online portal or custom API solution. Get in touch to find out more or request a customised demo below.
Uncategorized